Flowers

France
11 responses

• Philippines
20 Dec 06
There are many flowers available that you can give to your girlfriend. I found a site that has a lot of flowers with their meanings, so it depends on you what it means for you giving the flowers to her. http://marriage.about.com/od/flowers/a/flowermean.htm

• Philippines
20 Dec 06
http://marriage.about.com/od/flowers/a/flowermean.htm

• United States
20 Dec 06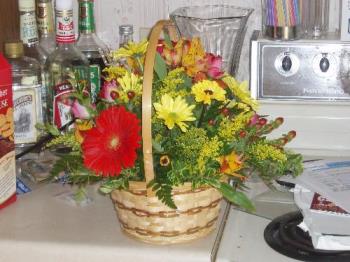 Just go to your local flower shop and buy an assortment of flowers. They have a whole bunch of pre made baskets that are beautiful. I really like tulips, daisys, and birds of paradise



• United States
20 Dec 06
I love tulips, unsure if this is the time of year for such, but they are beautiful and last almost a week

• United States
20 Dec 06
You can either get a mixed bouquet or try one that I personally think is GORGEOUS & ELEGANT!!! Try ivory and/or rust colored calla lilies in a bouquet...stunning effect!!!!!! Good luck!!!

• India
20 Dec 06
GET HER SOME BEAUTIFUL ORCHIDS OR GLADIOLUS! THAT WILL DEFINITELY MAKE HER HAPPY

• India
20 Dec 06
try giving her cactus lol

• United States
20 Dec 06
I would go with a bouquet and ask the flower shop what they have for special occasions...assuming it is a special occasion...