Here any one likes ICE CREAMS?

India
December 20, 2006 11:49am CST
Ice creams listening to that word only many mouths are wetted.I love ice creams.I dont know who found ice creams,if he comes infront of me i will thank him a lot.In every season i would like to eat ice creams,even in winter season also.Especially in rainy season i love to eat ice creams.First i will wet in rain then i will go to ice cream parlour and i will order for one.Recently i got a friend with similar taste now we both are going together for ice creams.I think every one loves ice cream. Do you like icecreams?Do you have any different taste like me?Do you like my taste?
4 responses

• Romania
20 Dec 06
i like icecream a lot. If you are anything like me, then you love ice cream. There is nothing like making your own, but the problem is, it just takes too long to freeze and some things just don't like to freeze.

• India
20 Dec 06
i like ice-creams much, and in all seasons too.... but cant eat with after being wet....

• India
20 Dec 06
i dont like that ........... my girl friend only likes lot but i didnt

• India
20 Dec 06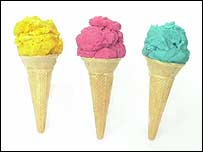 i love to eat any ice cream of flavour chocolate...i used to make ice creams at home in my free times..but not anymore..my recipe is as follows: Chocolate Chip Ice Cream Recipe Ingredients: 1/2 (250ml) pint milk, 1/2 pint (250ml) double/heavy cream, 3oz (75g) sugar, 5oz (125g) plain chocolate (grated) Place the milk and sugar into a saucepan and heat gently, dissolving the sugar. Place the milk to one side to cool and when cold, stir in the cream. Transfer the complete mixture into an ice cream maker and freeze following the manufacturer's instructions BUT remembering to add the grated chocolate as the ice cream begins to thicken.