What's the worst travel delay you've ever had?

Ireland
December 21, 2006 7:34am CST
Mine was a 2 hours wait, I can't remember where cos my memory is so awful! And there are big delays at Heaththrow in the UK because of fog and the travellers are NOT impressed with the facilities and service they've been receiving while waiting.
5 responses

• United States
22 Dec 06
Awww...LOL! Try sitting in a truckstop for 48 hours because the roads are closed! LOL! Happened to me more than once. The only time it wasn't a total bore was when Donner Pass was closed and I was stuck in Reno. LOL!

• Canada
21 Dec 06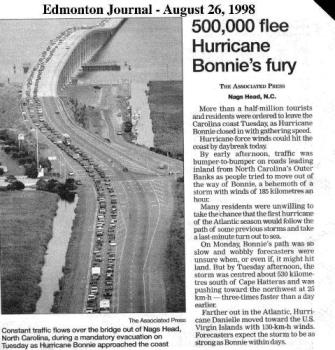 The worst travel delay we ever got was in 1998, when we went to Myrtle Beach. We had to leave 5 days prior to the end of our vacation because Hurricane Bonnie was coming straight for the Carolinas. So we decided to end our vacation in Virginia Beach..I think we stayed on the road, out of South Carolina, barely moving for at least 3 hours...All the inhabitants from FLorida, Georgia, South C and North C were under mandatory evacuation, and there were sooo many cars...It was extremely long and hot, but at least we got away from the hurricane.

• United States
22 Dec 06
I haven't had any delays because I never travel.

• United States
30 Dec 06
The worst was about 18 hours, taking a train from New York to Chicago, more than 20 years ago. The close runner up is very fresh in my mind, it was just a little over a week ago! I was flying from NYC to Albuquerque, NM by way of Dallas, Texas, and was stuck in Dallas overnight (total delay about 17 hrs) because a snowstorm in Albuquerque closed the airport there. They got 4 inches of snow in 3 hours, which is very rare for that city. Just my luck, I guess.

• United States
30 Dec 06
I remember one time when I was going to Tennesse from Texas by taking a bus, we had to wait over an hour because our bus had a problem. So, we had to take another bus to finish our destination. It wasn't bad, I enjoyed being out of the bus for awhile.