What are your holiday plans?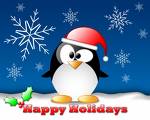 United States
December 21, 2006 3:43pm CST
Christmas is just around the corner and New Year's a week away..what are your holiday plans? Are you taking your family on a most awaited vacation to a lovely spot? Or do you plan to just stay home and enjoy Christmas & New Year with friends and family? I'm staying home, inviting a few friends over. That's my holiday plan! Tell me yours..
3 responses

• United States
8 Feb 07
we are waiting on the summer and because we have just moved, new things are in store for us. new places to see and wonderful things to do. new years this year we are going to spend 1 week on the ocean, i cannot wait, what are your plans

•
21 Dec 06
I wll be spending Christmas and New Year with friends and family at home and in the pub. If the weather isnt too bad we will probably walk the Christmas Turkey and Pud off with a stroll along the local beach. Watch some old Christmas films and pretend not to be nodding off, discuss absent friends and the old days, so on and so on. Sad really we do the same every year - but we wouldnt have it any other way.

• United States
21 Dec 06
My sister-in-law and family are coming today and staying until Sunday. We are having friends coming over either Saturday or Sunday(Christmas Eve) to stay the night with us too most likely. No plans for actual Christmas Day. Then New Year's Eve we have tickets for a special bingo down at our local Casino.