Agriculture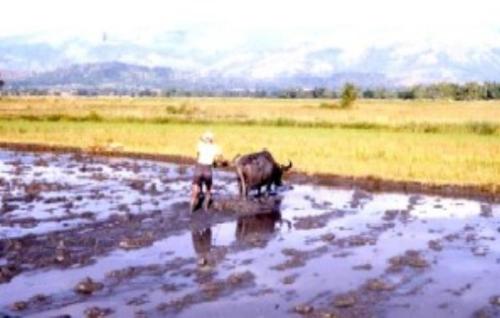 Philippines
December 21, 2006 7:14pm CST
Agriculture is the major industry in the Philippines. Farming is an ordinary occupation in the provinces. My grandfather was a farmer. He was plowing the field to prepare the rice paddies for planting rice using the plow drawn by carabao. Nowadays however, many are using what we call the "kuliglig". Have you gone to a farm?
6 responses

• Philippines
23 Jan 07
Before I started college, I was practically in the field. I grew up with farmers and my father was a farmer then I finished high school at an agricultural school and so I have learned many about farming, etc. I miss the farm now as I have not gone there for many many years already. I hope to spend long vacation in the near future.

• Philippines
23 Jan 07
I grew up in a farm in Davao but I personally have not tried working in the field like going there to help plant rice, wallow in the rice paddies, etc. I just attended to backyard gardening. I appreciate people who work in the farm. Farmers are the backbone of our country the Philippines.

• Philippines
25 Jan 07
Yes, I have been to the farm and I have lived in the farm and I grew up with farmers for my father was a farmer and I enjoyed playing there when I was still a child.

• Philippines
25 Jan 07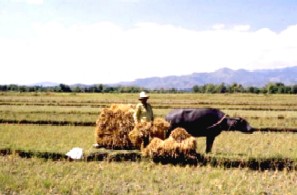 When I was young, I rode on the carabao pulling sled with the harvest to bring them to the place where we thresh. I loved to sleep in the farm with my uncle on the sled, sooooo crazy I was. I hope to be back in the fields to smell the fresh harvest and feel the gentle breeze and breathe in fresh air.

• Philippines
22 Dec 06
it was my life as a young boy, i mean i am already helping my parents tend to some rice paddies in our province during my elementary years. sad to say that until now we are still using the old fashion way, the carabao and the plow since 'kuliglig' is not really practical to use on those small rice fields. greetings. : )

• United States
23 Jan 07
That was very interesting i did not know that farming was a mojor industry in the Philippins. I have never seen a rice paddie field in real life only on tv. We had a farm that we lived on when I was a kid. We grew all our own vegetables and raised our own animals as well.Lots of work but it was well worth the labor.