Do you love all your children equally

United States
9 responses

• United States
2 Nov 06

I love all 6 of my kids they same.. maybe a little different but they are all so different. I can not say I have a favorite. Most would think since I just have the one daughter that she would be it but, I feel for her like I do all of my boys..

• Australia
2 Nov 06
I have 2 children and i love each equally and enjoy each as they each have special attributes maybe it is because i have a boy and a girl . I also have 3 grandchildren and i love and enjoy each equally i tell them 1 is special as he was my first grandchild the girl is the only granddaughter and the other bot because he is the youngest

• United States
2 Nov 06
I have three and I love them all equally.:)

• United States
2 Nov 06
Well I love all three of my children, but I do have to say that I enjoy my youngest one better. I don't think I can say that I love her more than my older two though. I just enjoy being with her more, which is probably due to the fact that she is only 10 months old and extremely cute. My middle child I would have to say is the one I least like to spend time with because he is a bit out of control and having some behavioral problems and my oldest, well, she has her moments where I love being around her and than other moments, like when she is being whiny (she is 10 years old acting like a 4 year old). But, like I said before I don't love them any differently than one another, just enjoy spending time with them differently.

• Australia
2 Nov 06
I only have the 1 child so cannot really answer this question. However, my late darling grandmother used to say 'all parents have one child who is a favourite but they should never show that one child is more favoured than any other'.

• India
25 Sep 06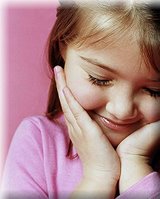 ia m still unmarried, but I will love my kids equaly, Y their should be any difference between kids, all are equal.

• India
25 Sep 06
Obviously. I cannot descriminate among them. All are equal. I also tell my wife not to give too much for one and too little for another.