Police/fire Professions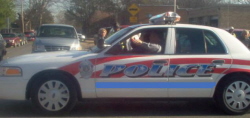 United States
December 22, 2006 11:58pm CST
Have you ever been or do you know anyone who is a police officer or fireman? What do you think about that link of work? I thin they're both very honorable lines of work. We have friends in each profession. I htink being a spouse or significant other must take a lot of dedication too especially for police familes. You often hear the negative about law enforcement. While I know there can be bad in any profession, I think sometimes these guys don't get enough credit.
2 responses

• United States
24 Dec 06
Yes, I have friends that are both. It is very dangerous, and a very brave person that has these professions. They do not get the respect or honor they deserve. Nor do they get paid enough for putting their life on the line to protect the public.

• United States
23 Dec 06
I know people in both professions. I used to volunteer for my local ambulance service so I got to meet many of them. The firemen around here are all volunteers. They don't get paid. Yes, most of the time both are not appreciated unless you need them. I dated a guy once who was a fireman. It was hard because you never knew if you were going to see them again.

• United States
23 Dec 06
Thanks for your response. My grandpa use to be a voluntary police officer. The jobs are definetly underpaid and underappreciated most of the time. We have friends in these professions and worry a lot about them, can't even image how it must be for their significant others.