Tennis: Wo you like tennis? Your Favourite Tennis player?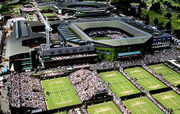 Pakistan
December 23, 2006 9:16am CST
I like tennis very much and my favourite player is Man:Roger Federer Woman: Maria Sharapova Some details about tennis Tennis is a game played between either two players ("singles") or two teams of two players ("doubles"). Players use a stringed racquet to strike a hollow rubber ball covered with felt over a net into the opponent's court. In some places tennis is still called lawn tennis to distinguish it from real tennis (also known as royal tennis or court tennis), an older form of the game that originated in France in the Middle Ages and is played indoors on a very different court. Originating in England in the late 19th century, lawn tennis spread first throughout the English-speaking world, particularly among the upper classes. Tennis is now an Olympic sport and is played at all levels of society, by all ages, and in many countries around the world. Except for the adoption of the tie-breaker in the 1970s, its rules have remained remarkably unchanged since the 1890s. Along with its millions of players, millions of people follow tennis as a spectator sport, especially the four Grand Slam tournaments.
10 responses

• Portugal
23 Dec 06
I am crazy for tennis =) I usually like to see it in tv, but one day I hope to go out and see it =) but I think we nead to spend very much money, is it true? About Roger Federer is the best, I don´t have words for what he can do, he is amazing in the game, he can do what he want and when he want, but when Federer play against Nadal that isn´t true =P What this time we are the holidays of tennis, so I hope we will see much better tennis then ever =) I thin Tennis is the best sport in the world, anything can happen, is so fast. when I was more younger I just see soccer and know I feel difference when I see tennis , and can say that soccer is really boring lol Regards to you.

• United States
23 Dec 06
Rafael Nadal and Maria Sharapova

• India
24 Dec 06
I like rafael nadal and roger fedrer.Before i never used to take intrest in tennis but after a match which i saw between these two made me attracted to this game.

• India
24 Dec 06
I like Nadal and Anna Kornikova


• United States
31 Dec 06
I like tennis and I like to play it. I just don't watch it on tv.