Do you have friends or family overseas in the armed services?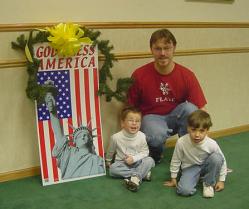 United States
6 responses

• China
24 Dec 06
i dont have but i am in overseas alone study here far from my parents


• United States
28 Dec 06
My husband is deployed in Iraq and wsn;t home for the holidays. It was our first christmas since we got married and we had to spend it apart. It was hard but I understand becasue of the circumstance and I am proud of him.

• United States
28 Dec 06


• Romania
29 Dec 06
I don't have none of my friends in the army or in the army forces. I am really sorry for the ones which have friends which are departed in other countries with some horrible missions. They can't imagine how they are missing to the beloved ones... Good luck!