Single and HAPPY!!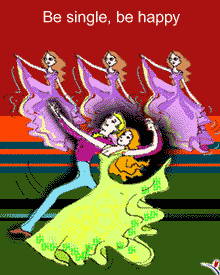 Malaysia
December 24, 2006 6:36am CST
24/12/2006... Is marriage still the ultimate "destination" of the modern woman which is majority having a higher education and is financially independent? Shall woman marry under pressure from parents/ society/culture? I personally think that woman shall marry only if she can find her Mr. Right. Share with us your opinion regarding this issue or do you have any relevant incidence to tell?
3 responses

• Australia
17 Feb 07
No marriage is not for everyone, whether they have a higher education or whatever. In most cultures today women do not marry just because of family pressure or at least I hope they don't. Nobody, neither male nor female, should marry just for the sake of it. The reason for marriage is because the person is ready to settle down, has maturity and has met someone that they want to spend the rest of their life with. I do know that in some cultures there are still arranged marriages but they happen more often when the couple are younger. Those marriages can work out just as well as a love marriage, if both of the couple are prepared to work on the relationship, love, trust, respect, honour and be faithful to the other. Also when times get a little bad, which they do in all relationships, they the couple must be willing to discuss the issues and if they cannot agree, then reach a compromise that satisfied both. :)

• Ireland
24 Dec 06
I think women shouldnt marry cause ther under presure.I think some people give into lonliness and just settle to settle.I think its best to wait for the right guy to come along.It be worth it in the end.

• India
24 Dec 06
WELL I HAVE THE SAME IDES THE ONLY DIFFERENCE IS .. I AM A MALE AND I HAVEN'T FOUND ANY MISS PERFECT FOR ME ... the next thing is .. i dont want to change mwe as well as my counterpart .. so it will be difficult for me to get ms. perfect for me ... i am a bachelor and i have decided to be bachelor ... ever green youth .. no bondage ... freedom... i remember one song of 80... "my father said son be a bachelor boy till your dying day ... he said taht son ...." LOL it doesn't matter you are married or bachelor ... it is actually how you feel ... if you are comfortable than it is the best to remain bachelor ..