pollution?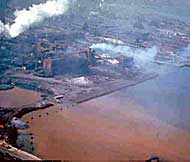 India
December 25, 2006 11:36am CST
comment on the pollution being a threat to the human race........
3 responses

• India
26 Dec 06
pollution continues to worsen due to the population growth and scant environmental restrictions in many nations. It is becoming increasingly hazardous to the health of The Earth.pollution can threaten the health of human beings, trees, lakes, crops, and animals, as well as damage the ozone layer and buildings.

• India
27 Dec 06
thanks for showing interest, can you list some of the causes for the pollution and how to tacklel it??????????? hey check my profile, there are new easy discussions topics which you can answer with ease and make money aswell.........,dont forget to respond to this discussion


• India
27 Dec 06
thanks for showing interest in the discussion, how can we prevent pollution? any ideas(practical and genuine one pls) ....... and hey check my profile, there are new easy discussions topics which you can answer with ease and make money aswell......... , dont forget to respond to this discussion

• India
30 Dec 06
pollution is increasing day by day and it should be controlled as soon as possilbe