If you drink Pepsi at work in the Coke factory, will they fire you?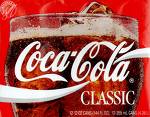 Romania
December 25, 2006 3:19pm CST
5 responses

• United States
25 Dec 06
I don't think they will fire you; however I do think they will kill your first-born child!

• United States
25 Dec 06
Well two of my uncles work for Pepsi, but neither of them have children so I do not know for sure! That was just a guess


• Sweden
25 Dec 06
if you work in a coke factory and you are found drinking pepsi, i think you will be sent for punishment or worst, get fired. it's not that it's a criminal offense. but it just shows that you have no respect for the company.

• Romania
26 Dec 06

I don't think that if you will get caught drinking some coke into the factory you will be fired. After all you work there and you just needed to drink something. In any case i don't think that i would get fired i would search for a good excuse. Good luck!