how do prevent viruses from entering your pc??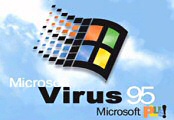 India
8 responses



• Portugal
9 Jan 07
I use McAffee Antivirus updated and try not to surf sites which I think may be dangerous nor download files from sites I don't know the origin or accepting files from people I don't know and by following that simple rules I've not had much trouble since I have internet, just some world-wide virus that I (and a lot of people around the world) catched but after updating AV software I didn't have any more problems with it.

• India
8 Jan 07
use a good internet security suite. it provides an antivirus as well as a firewall and there won't be any more viruses.