Look everybody what I got for Christmas! Is he sweet or what?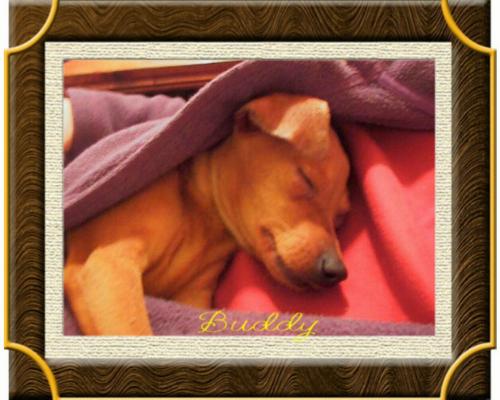 United States
December 26, 2006 9:26pm CST
Buddy is a 6 month old Minpin and he is such a sweetheart!
8 responses

• United States
31 Dec 06
Buddy is so adorable. what a great Christmas present. enjoy him. he is a cutie.

• United States
31 Dec 06
Thanks, he is already getting very spoiled, hehehehee We were really surprised when our kids brought him to us, as we had just lost our shiba inu to cancer a couple of months ago and were missing him so much. We weren't sure if we were ready for another dog yet, but I guess our kids knew.


• Australia
29 Dec 06
I have not heard of a Minpin before, but we are a bit backward down-under! lol What a beautiful gift that will give you great pleasure, enjoy!

• United States
29 Dec 06
I tried this once before, so if you get it twice that is why. Many people think that a minpin is just a miniature doverman, but not true, it is a seperate breed all together, which has been around longer than the doverman. He kind of looks like a doxie on stilts! hehehhee Thank you, it was a wonderful gift and we love him so much! I will post more pics of him so you can see just how cute he really is! All 4 pounds of him! hehehehee

• United States
29 Dec 06
Sure, anytime. I didn't know much about them either until just recently. He is an active little guy and into everything! I have to baby proof my house again now! hehheehee So you live in Australia? I have lived many places, including Europe when my husband was in the army, but I have never had a chance to come to your lovely country and have always wanted to all of my life. I have looked at thousands of pictures and watch things on tv about it. It looks so gorgeous!

• United States
27 Dec 06
Awe, he is just adorable. I hope that you will get a lot of joy and happiness from him. I know that he got a great mommy and daddy to care for him. Enjoy dear.

• United States
27 Dec 06
Thanks sis! We have been enjoying him alot!

• United States
18 Jan 07
What a cutie. They are great companions.

• United States
19 Jan 07
Thanks! It didn't take long for my husband and I to fall in love with him. We tell people he is our doxie on stilts! hhehehee he looks similar to our dauchsunds that we have had only has long legs!

• Canada
1 Jan 07
Aww what a cutie, were you surprised to get him for Christmas or did you know he was coming? He looks so peaceful in that picture, what kind of personality does he have? Dogs look so innnocent when they're sleeping but wait till he gets totally comfortable in your home and used to things (hehe, JK) Let me tell you a story though! We have a very innocent dog (or so we thought) but one day he decided to hop up on the chair and grab my perscription glasses off of the desk and completely wreck them..he even bit a hunk out of the lens! This is something I laugh about now but oh man...I was angry...glasses are kind of an expensive thing to replace.

• United States
1 Jan 07
Thanks! No, we had no idea we were getting him! Infact my husband and I had been trying to decide if we were ready for another dog after losing our Shiba Inu a while back from cancer. We were thinking about maybe looking after the holidays were over. His personality is so cool! He has taken the place over! In his eyes the family is him, THE BABY, right between mommy and daddy on the BIG BED and the two cats are his to run after when he has a mind to! The kittys aren't impressed and not much afraid of him either. Now and then they will run from him just to be polite and then look at us like well how was that? Boy I hope he doesn't start chewing up things like that! So far his doggie chew seems to be a good pacifier.

• United States
27 Dec 06
What an absolute sweetie. My friend had a minpin and I loved it to pieces. Her name was Princess, but we called her Prinny. When I came to visit she would spend more time with me than with my friend.

• United States
28 Dec 06
Thanks, we have fallen for him instantly, who wouldn't? We lost our shiba inu a few months ago with cancer and have been missing him so much. We didn't think we were ready for another one so soon, but when our kids brought him to us, we fell in love. Maybe he will help us heal faster.

• United States
27 Dec 06
He's cute! He looks comfortable. I'm sure he's happy living with you.

• United States
27 Dec 06
Thanks! He does look comfy doesn't he? I am afraid he is already just a tad spoiled! :) He must sleep in the BIG bed! He is a biggy! He weighs 4 pounds.

• United States
12 Feb 08
so cute! congrats! hope the little guy is doing well. i love having a new baby in the house! have fun!