What is Blogging? How do I earn from it?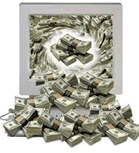 India
December 27, 2006 10:05am CST
i know ppl are making $$$ from their blogs ..but i have no idea what they are..
4 responses

• Philippines
27 Dec 06
Yes, I've heard of that too but didn't tried it yet but I've seen a site like this. It's just the same with mylot, we're being paid by posting discussions / topics, while on blogging sites, they are being paid on blogging articles or anything about their life

• India
28 Dec 06
sounds good! ..can we make more $$$ in blogging than in mylot? ..nywy thx for replying


• India
1 Jan 07
well, i dont blog myself, so i m not too sure what u r paid for it. its like an online diary, where u note down everything u do in the day's work. it is a good concept, i m a bit lazy to get started!

• Canada
28 Dec 06
Blogging is posting your opinions and interpretations of current events, entertainment news, whatever interests you. Usually on a site like blogspot, of if you are tech-savvy you can have it on your own website. People can gt paid for blogging, but it's pretty much donation only. There isn't really much money in it.