What's the most eccentric thing you have ever worn?

United States
11 responses

• United States
29 Dec 06
7" purple mohawk with a ripped up shirt, a black mini skirt, fishnets, and combat boots up to my knees. I used to dress like that on a regular basis from the ages 16-19. But now, I'm 20 pounds heavier with a toddler. Somehow I don't see myself functioning with a running toddler wearing that kind of stuff. Oh man.

• United States
31 Dec 06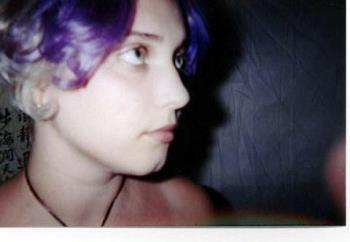 Yeah I could see how that would be difficult. I did know this couple, however, that dressed like the Adams family and dressed their baby that way too. It was pretty cute. I had purple hair but never did the mohawk...always wanted to though. Also had a slew of other colors. This picture is 2001 I had ultraviolet and platinum hair.

• United States
31 Dec 06
That sounds pretty! Where I come from, in Mendocino, that's dressed up!


•
27 Dec 06
nice outfit, for me it had to be full highland dress including kilt i wore for my cousins wedding a few years ago

• Australia
10 Jul 07
Hi withoutwings, from memory the most outrageous costume I wore was to a nightclub in the early 90's - black crocheted shorts with paisley stockings (mainly burgundy coloured). Thankfully I kep the top simple - a black hooded top. Now mind you, this is not counting fancy dress costume when I once dressed up as a can-can dancer from the Moulin Rouge.

•
10 Jul 07
LOL I'm a goth hun, all my outfits are classed as eccentric. One of my favourite clubbing outfits is a black corset teamed up with a black velvet riding skirt, biker boots, fishnet stockings, long black gloves, a ladies top hat with a purple net veil and finished off with a full length purple velvet cloak

• United States
18 Jan 08
i used to dress goth too. I still like the music and the subculture, I just can't have purple hair and dress like that for work now. Your outfit sounds cool...especially the hat. I still do wear my velvet clock from time to time... I like wearing it on the few occasions my mom successfully begs me to go to church with her.

• United States
9 Jul 07
I do not like to wear things that are eccentric, I am a serious dresser.

• United States
9 Jul 07
You have never cut lose and worn something crazy .... even for a party?

• United States
12 Jul 07
I went through a country-western phase myself years ago...would wear a suede fringed jacket, western boots, and cowboy hat as well....I stood out like a real sore thumb though..might have been more acceptable in the Greenwich Village area of NYC where anything goes in a way...but here? In the borough of Queens, NY--uh....not really?

• United States
9 Jan 07
LOL hell pretty much every thing I wear is considered eccentric really...as my one gf put it yrs ago, I'm a "fashion faux pas" LOL....but i like it that way so its all good :D

• Netherlands
9 Jan 07
That sounds cute and not at all eccentric.... then again I have quite often been called eccentric myeslf so I may not know.