Dont you think chatting hours on internet is a wastage of our precious time?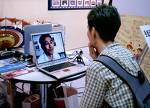 Argentina
December 28, 2006 2:21am CST
I do think think so, chatting with unknown persons on messengers is completely a wastage. We get nothing out of it, it may happen they some of them will become friends, but that will cost many hours (Which we could use to study). I have stopped using messengers after making 5-6 good friends. I am touch with them through emails and mobile now.
4 responses


• India
28 Dec 06
yes it is waste of time if someone is using it most of the time instead of mingling with his friends or making friends outside his home his neighbours and all.but its limited use is not that waste.it have the ability to make friends and share their knowledge and experience .it offers ready help and chattn helps us to knw more abt the person.which can later b useful in the walk of life.

• Ireland
28 Dec 06
That depends a lot, if its something you really enjoy, then its not a waste of time:) I personaly don't have time to talk to people I don't know on the msn messenger, but its a great way to keep in touch with the friends I already have:-)

• Indonesia
28 Dec 06
sometime i think chatting hours is a wastage if just doing by new person. But for me, i chatting hours because i want to talk with my overseas relatives and doing my online business, so in this case i dont think its kind of wastage my precious time. so, depend on each person purpose, my friend