Gilmore Girls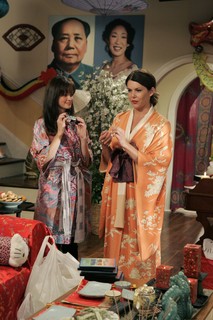 Philippines
December 28, 2006 8:04pm CST
So Lorelai & Rory are pretty much like bestfriends. But they're Mother & Daughter. Which Gilmore do you like the most? Why?
2 responses

• United States
29 Dec 06
I've watched this show since it first started, and I love the character of Lorelai..because she is a strong person, & a strong and devoted mother. But at the same time she is best friends with her daughter, and that shows what a strong influence she has been with Rory. I love her wit and just the way she carries herself is so confidant.I'm really aggravated right now though, because I did not want her to marry Christopher! I don't know where this story line will take her, but I have a feeling that htey are headed down a rocky road. I can't wait to see how her character evolves after this.

• United States
29 Dec 06
I like Lorelai the best. I admire independent women on TV and in films who seem to be able to handle any situation that is thrown at them.