are u hot or cool?how would others describe u?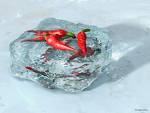 India
December 29, 2006 9:59am CST
i also listen to people referring to others like,"that girl is HOT man", or "he's a COOL dude", "she's a COOL cat", "he's HOT" etc etc. so which category u fall in to? are u as hot as a chilly or chilled out like ice? what do ur friends say? my friends call me 'hot'.
1 response