Pete Rose...Hall of Fame or Not?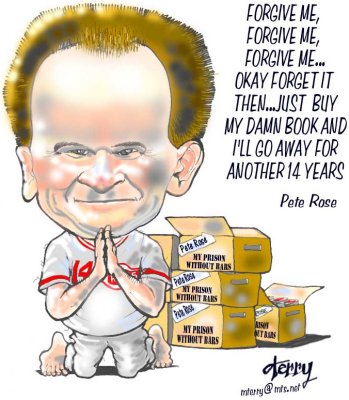 United States
December 29, 2006 1:02pm CST
Should baseball's all time hit leader, Pete Rose, be inducted into the baseball hall of fame in Cooperstown? Even though he bet on baseball?Does the Cincinnati Reds player known as Charlie Hustle deserve a place in the hall of Fame?Should his off field actions overshadow his on field accomplishments?
2 responses

• United States
29 Dec 06
I think the concept that sports personalities are role models is bunk. Pete Rose didn't make any teams throw a game so that he could win bets and so he should be included in the hall of fame. It is just stupid to keep him out because he likes to gamble. Charlie Hustle also deserves a place there because he was good at the game. His personal life is his own business and should not count against him.

• United States
29 Dec 06
Yea i always wondered the same thing. If he did bet on the Reds he was probably beting that they would win.

• United States
29 Dec 06
Pete Rose was one of the best players in Major League Baseball. His numbers show it, so do his titles and awards. Something stupid like gambling shouldn't keep him out of the Hall of Fame.