what do you think about samwise gamgee?

India
6 responses

• United States
1 Jan 07
I think he is a great and important character in the film. He's sweet and kind as well. Just think how far Frodo would have gotten if Sam wasn't there protecting him and urging him on.

• Philippines
8 Feb 07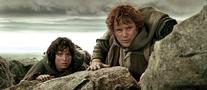 Samwise Gamgee is the 'Hope' that the elf Galadriel speaks of, whenever Frodo becomes weak Sam always rescues him, he believes in the abilities of Frodo and he remained true to his friend until the end. The best scene with Sam & Frodo is in 'The Two Towers' where Frodo is so weak that he can't continue climbing the mountain where they need to destroy the ring, Sam carried Frodo on his back until they reached the top, the scene is so touching.


• India
5 Jan 07
Ohho finally some1 did conider him....offcourse i think gr8ly of him...his devotion towards his job, his love for nature n elves, his love for the most dearest friend n master frodo...n that iron will he has to never let go...its just too good n is highky appreciable by....:)

• India
29 Dec 06
sorry mate,i dont know much about this.

• India
16 Apr 07
yes definitely he was the strength of frodo baggins....with him he would have fallen to the dark side a lot earlier....main thing was he was pure from heart though did nt have good abilities still......that was the major thing to propel frodo towards his task....hats off to his friendship!!!!!!!!