Failure

December 29, 2006 8:32pm CST
when you do a google search with the word failure the first result comes up president george w bush,is this a true reflection of the man?
3 responses

• Bangladesh
30 Dec 06
if you say about bush, it is 1000000000% correct.

• United States
30 Dec 06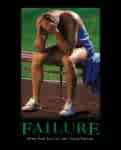 my search brings up a couple of examples of sports people in error. Then George Bush. My answer is that it is someones opinion of George Bush as a failure. He had the help of Congress remember. and when they take over office they often deal with what their previous administration has started and the times overlap.