My Cat Story No 2...Charlie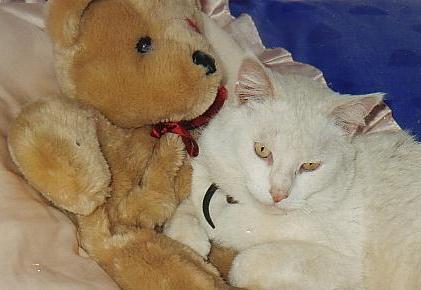 Australia
December 29, 2006 9:43pm CST
Every know and then a beautiful white cat came to visit me, he loved to lay on my bed, he had a tag on, his name was Charlie, he brlonged to a neighbour, but when circumstances changed for the neighbour he gave the job of looking after Charlie to one neighbour but she wasn't really into cats so the job got passed onto another neighbour, once again things didn't work out so he would come to visit me a lot, he was the most affectionate cat I had ever seen, was beautiful. After my special friend passed away it was Charlie who seemed to be around everyday that made me feel better, he was a real snuggler, the original owner saw him at my place one day and said I could have him if I wanted him so I decided to keep Charlie, he seemed to be just what I needed he was like an angel sent. Charlie wasn't a young cat and I guess I had him for a couple of years when he too just passed away, just died suddenly on his little blanket at the end of my bed...once again I sai no more pets.... we will see.
3 responses

• United States
30 Dec 06
I'm starting to think that you are lost without a cat since this is the second cat story you posted. It seems to me like you want to get another cat but you might be feeling guilty. I am sure your cats would have wanted you to have another cat to love and take care of. Please give it some thought. I think you need another cat and if I'm wrong, I am sorry.

• Australia
30 Dec 06
cats do bring something special with them thats for sure

• Australia
13 Jan 07
Your story is a sad one lilaclady but also a happy one at the same time, and how often can we relate to this type of thing! I too have said many times after the loss of a much loved pet, no more! But as mine are mostly strays over the years some how they always seem to know where to come!

• Australia
13 Jan 07
Oh yes Charlie cat was the most loving cat I had ever seen, it was my pleasure to have spent the time I had with him, I still miss him..:)

• United States
31 Dec 06
Do you find that you easily make connection with animals, my daughter does, even when she was little. I think you have a big heart, animals just might sense that, if this is the case...you really won't be able to escape, they will find you...and I'm betting you will give in...SS