What the heck is Khlav kalash?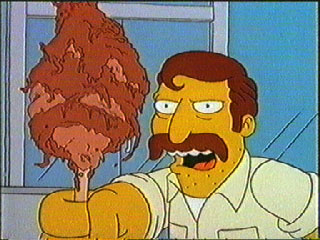 December 30, 2006 2:41pm CST
In the episode of the Simpsons:: "The City of New York vs Homer Simpson", Homer buys a disgusting looking foodstuff on a stick from a vendor at the world trade centre plaza. Does anybody know what Khlav kalash is or was it invented for the show? If real, where can I get some?
3 responses

•
30 Dec 06
ime not 100% sure if it was real before that episode of the simpsons but i have recived a recipe for it since then was told it was ether eastern european or middle eastern the recipe was 600grams wether meat (not a clue what this is so the reason i never tried) 600grams lamb meat 4 tomatoes 1 onion 3 pimentoes water salt and pepper cut the meat into cubes cut pimentoes and onion into strips squeeze tomatoes all into a bowl season with salt and pepper add a little water form into balls about the size of a baseball lightelly oil the balls and grill or fry them soubnd about right nothing in that would harm so worth a try if you can find out what weather meat is the whole recipe sounds a little like kebab meat to me so maybe khlav kalash is just kebab

• United States
30 Dec 06
the city of new york, Khlav kalash is not popular here, i don't know a lot about him lol.

• United States
30 Dec 06
Sounds like something Borat would eat, or wear, or sing. Force

• United States
30 Dec 06
Whatever the food is maybe you can ask the vendor himself. http://profile.myspace.com/index.cfm?fuseaction=user.viewprofile&friendid=65831971 Force