was that really saddam executed?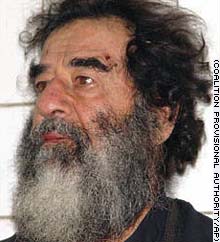 Canada
December 30, 2006 8:27pm CST
curiosuly, dont you have doubts if that was really saddam hussein executed? what if he had someone on surgery and copied his face? and the fake one was the one hanged. what do you think?
2 responses

• United States
31 Dec 06
I would think.....get a life and quit watching so much TV,playing vidio games, and smoking pot.Go get some munchies....

• Canada
31 Dec 06
yeah right! as if you really knw everything. like sort of a genius eh?

• Canada
31 Dec 06
that message was for kodeshkodashim