Are you watching the Heroes Mini-Marathon?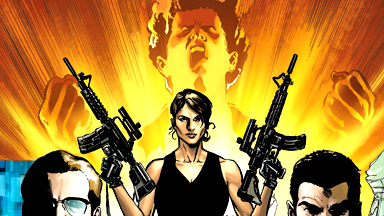 United States
January 1, 2007 8:16pm CST
Who's watching the Heroes mini-marathon that's on right now? On the East Coast anyway. Catch up if you missed any. And start watching if you haven't before. And check out NBC.com. They now have up the Heroes graphic novels to read! These are based on the paintings the future guy saw.
5 responses

• United States
2 Jan 07
Saw 'em all first run, so I'm not watching now... Just waiting for the new episodes!!!

• United States
11 Jan 07
i am going to look for the graphic novel to read, it will be cool to watch i'll bet it will give hints to the show too.

• United States
3 Jan 07
I enjoyed the clips of future episodes during the marathon. It was a great way to spend an evening.

• Canada
2 Jan 07
I have every episode so far downloaded onto my computer, and some are already put on a DVD for my mom to watch them (she hates watching it on my computer). I really hope they come out with the season DVD's RIGHT after it finishes airing. I want to get an actual copy of the series. Unfortunately, I don't watch much television besides Heroes and Dexter, so I'm not to sure if the mini-marathon was even running where I am. =( But it doesn't matter, I can watch any episode whenever I want, so far!

• United States
2 Jan 07
Hey there. I am recording them on my DVR/TIVO tonight and watch them throughout the week! :) I really couldn't get into the show but I am going to try a second time... ;) I did see an episode or two...so I sort of know the basic background! :) So yes, I will be watching. Yay!