The term used for someone who lost his/her child?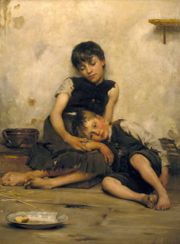 Philippines
January 1, 2007 8:54pm CST
Hello people and belated happy new year to all!I have this little question and it's been bothering me for a while. I'm not sure if it has an equivalent word in English as I am no master of the language. So here it goes: You call someone a widow when a woman whose husband is dead especially one who has not married. A widower is the vice versa of the widow (the wife died). You call someone an orphan when a child lost one or both parents, either by death or by disappearance. Now what is the proper term to refer to a parent who lost a child?
2 responses

•
2 Jan 07
ive been thinking this same question over the past couple of months, plus i have asked quite a few people and they don't know what the term is neither, im guessing there is no correct term for it but then again, i could be wrong but it is a good question, so therefore i shall keep checking back on your discussion to see if anyone knows if there is or isn't a correct term..

• Philippines
2 Jan 07
Yeah. Most people I've talked to doesn't know the correct word and were also puzzled if a proper term even existed in the first place. Well, they tried by answering "someone who lost a son/daughter." term but that's not what I'm really asking, right? Let's hope someone out there will enlighten us on this. Thanks.

• United States
2 Jan 07
Other than "devastated", I don't know. They would still be parents