orkut buyukkoten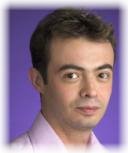 India
January 2, 2007 6:31am CST
orkut buyukkoten is d founder of orkut..... he faced a lotts a problems... now he gets more than 10, 000 frnd request a day... wt do u think abt d website nd himself???
5 responses

• India
19 Jan 07
he is a great man!!!! i do have a orkut id smstoankur
@gmail
.com the website is very good!!! i use the website daily!!


• India
2 Jan 07
yeah the guys preety rich now, i've heard that in some 15 years, he is gonna be one of the richest person alive

• India
2 Jan 07
of course every one loves orkut and hats off to mr.buyukkoten he's like a hero for so many of us,the site is just awesome i bet everybody reading this already knows that...

• India
2 Jan 07
Hey... He's jus an example of HARDWORk !!!! N here s a rumour about him.. SURVEy say that he will become the RICHEST GUY by 2010 if the network website goes on like this ! n the website is really cool... more than that guy !