What's the worst holiday you've ever been on?

Ireland
5 responses

• Ireland
2 Jan 07
The worst holiday I was ever on was six years ago. At the time I was living with my partner (now ex partner) and we had planned a holiday to France with our children. The day before we were to leave he told me he wasn't going. First of all he told me that he had to work, then he told me he was afraid to travel by boat. We were due to go with friends of mine and I went with the kids even though he wouldn't go. I wasn't spoiling their holiday for them. Well, when I met my friend and her family at the ferry and told them what had happened, you'd think I'd planned for it to happen deliberately. They weren't a bit understanding. They avoided me for practically the whole holiday and left me to travel back through France on my own with two small kids. On the day we were leaving they didn't even ask me if I needed a hand with packing or anything. When we got back I didn't bother contacting my friend again. Some friend she was.

• Ireland
3 Jan 07
OMG that's horrible, it wasn't your fault...i remember when we caught a ferry to France I had to stay out on deck the whole way across (apart from when we were sleeping!) because i kept getting sick, on smaller boats i'm fine but bigger boats are a big no...i remember having to run up 2 flights of stairs at one stage to get outside, i'm NEVER going on a ferry EVER again.

• Ireland
3 Jan 07
We had to get a ferry that took 14 hours. My friend had booked cabins in the bottom of the ferry for us. They were horrible. You could hear the engines and the water sloshing around. I vowed that if ever I had to take a ferry for so long I'd book berths up on deck with en-suites. But whenever I've gone to France with my husband since, we've driven across England and Wales and crossed from Dover to Calais so no need for the ferry. :)

• Canada
3 Jan 07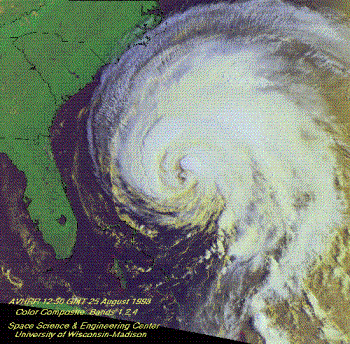 It was 1998, in Myrtle Beach, South Carolina USA. We had booked our condo for 2 weeks, we had to leave after 4 days because hurricane Bonnie was heading straight for the Carolinas. So, on the day of the mandatory evacuation, we had gone for a long walk on the beach and when we came back, found out we had around 2 hours to pack up everything and leave, or give them the name of our next of kin. We packed so fast, we forgot many things, and my aunt was freaking out that we were going to die (she tends to exagerate)and she and my cousin got in a fight cuz they were both stessed out. It took us a few hours to get out of South C. it was so hot, and getting more and more windy. We ended up in Virginia, 8 people in a hotel room! And we had pizza for supper. That was not what we had planned at all..But at least we're all safe and sound.

• United States
3 Jan 07
Worst Holiday? It was the one when someone wanted to kill me. I was rescued. All remaining holidays were great.

• Australia
2 Jan 07
well I went on a holiday with my husband to where he comes from which is an island, anyway everything went well apart from one of his eldest sister as she was very nasty to me and our daughter who was only 9 at the time, she tried to make an argument with me but I was very happy with the way I handled it as it is against their custom to swear at her and they are very religious so I just told her that she had best go back to church for where she had been only an hour or so before, anyway I will never go back to the island with my husband again and I never want to see her again, as she really spoilt my holiday there.

• United States
6 Jan 07
So far my holidays been phenomenal. And I'm glad it worked out for me thus far.