Birthstone

Australia
8 responses

• India
29 Jan 07
mine is diamond but i do not have one. planning to buy one soon.

•
15 Jan 07
My brthstone is garnet. I have a couple loose garnets that I use when I am doing chakra work. I also have a ring and a necklace. I have found that wearing the ring on my left hand tends to raise my anger level a bit. Switching it to my right and I am cool as a cucumber.

• Barbados
14 Jan 07
I think my birth stone is opal, I have thought about getting one but of course it would have to be a fake..lol

• United Arab Emirates
13 Jan 07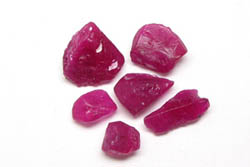 since i was born in july my birth sign is ruby aswell and mashallah i have a ruby set!and it is real its gold+ruby!mashallah!and uno wht i looks nice i mean on my skin tone!


• United States
2 Jan 07
My Birthstone is an emerald and I don't have a real one.