What is the best dog with for 2 small children?

United States
11 responses

• United States
2 Feb 07
Look, this is gonna sound weird, but I think the best dogs in the world are probably pit bulls, now wait! before everyone starts telling me how they kill people and blah blah blah, just remember, it's nurture over nature,people. My girlfriend grew up with her pit bull Samson and he never once bit or even barked at her. In fact..any dog is good for little kids, well except maybe chihuahua's or other tiny dogs..they bite more than any of them. I'd recommend any big/medium size dog. I also think Daschund's are great..noisy, but very loveable.

• United States
9 Feb 07
My wife would love your answer, as she really wants a pit bull or a rotty!

• United States
2 Feb 07
Small kids should have small dogs. My favorite is the Papillon. Very friendly. Good lap dog. Intelligent. And, not a worry around kids. The Brussels Griffon is also good. A bit more intelligent than the Papillon and equally as good for small kids.

• Canada
1 Feb 07
I've always felt that a beagle or a black lab made excellent pets for kids. Your better off getting them when their pups just when their able to leave the litter. This way children and pups can grow up together. It makes it that much more magical. And the bond will be more stronger. otherwise you could get a fluffy puppy. That's not really my fortay, but then again we're not talking about me are we? Good luck on your decision.

• United States
19 Jan 07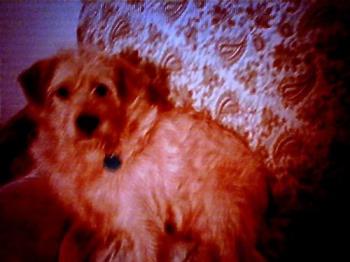 You really have to see how dogs react around your kids. We found a dog at the pound a couple of years back and he has been great for the kids to grow up with.

• United States
19 Jan 07
Sounds good. That is what is nice about our local SPCA. You can take the dogs out in the open and play with them and see how they react to you and your children.

• United States
13 Jan 07
I have a little 6 month old beagle puppy he is very friendly and loves my younger cousins. Beagles are a good way to go if you are thinking about geting a dog. They are cute cuddly friemdly and especially cute!!!!!

• United States
13 Jan 07
Thanks for your help. I never thought about getting a beagle, but they are really cute, so that might be an option that we will look into. Thanks again!!

• United States
1 Feb 07
Last 20 years I had 5 dogs, black lab, yellow lab, rotweller, chao, terrier, and 3 cats, 2 rats and i ferret. Maybe just me, but my experience is, if you have the dog when they just born or before or 2 mounths old, and you and your family training him or her, you have a good, loving new family member in you house. Also the best if you have rigth away two. We all need a company. Good luck

• United States
10 Jan 07
Golden retrivers are good so are beagles Not very many toy breeds are good a couple that are are pugs and cavalier king charles spanials .Mixed breeds can be just as good with kids and If you find a adult dog that was raised with kids but is being placed becauce the owners are moving or something of that nature don't count them out either .Most Sporting breeds and mixes are good with kids .The best thing to do is make a list of things you want in a dog you already know good with kids but also size ,hair leght ativity level are you a family with a large yard that goes running plays out side or are more inside laid back .You want a dog that fits you . If you got a long haired dog no time to brush it or extra money for groomer that would be bad .A high energy dog in a laid back house hold might drive you crazy ,but a laid back dog in active one might be just as bad .A great dane in a two bedroom apartment might be alittle much .Like I said try list things that fit you life style then either go to shelters with this list or do a online reaserch of breeds that fit this .one place to see different dog breeds is www,akc.org another www.ukcdogs.com

• United States
8 Jan 07
You have to be careful with children this small to get the perfect dog. I have heard labs are great dogs, but if you want something with shorter hair, a golden retreiver is also a wonderful dog to get for your child. I would make sure you get a purebred newborn, as the dog can grow up with the kids and you will know the temper that it has from the start.


• United States
8 Feb 07
My dalmatian is going to be 13 years old on the 22nd of March. We bought him a couple of months before my youngest son was born. My poor puppy had his share of abuse. Kids fighting over him, kids riding him, kids chasing, kids waking him up from his nap and the list goes on and on. I was told years later after I bought him, that Dalmatians are considered high mainteance. That I can't deny. He would run laps in the yard for 20 minutes. There was a huge dirt track from him running, he always tore the laundry off the line and all kinds of crazy things but he never once growled at the kids.

• Janesville, Wisconsin
20 Apr 07
It really depends on the child, and on the dog.. For younger children you'll want to pick a dog that is more laid back. You can animal shelters and see if they allow to adopt them out to homes with younger children or not.. or try the local pet stores, see which kind you like... I was 6 years old when I got my Old English Sheedog as a little puppy. It was the right thing for me, and we literally grew up together. As your local vets where they recommend to get a child friend dog, they may know. - DNatureofDTrain