Charminar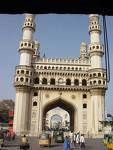 India
January 3, 2007 12:06pm CST
Do we need to take care of that monument....! wht r the steps to be taken on this...?
3 responses

• India
11 Jan 07
i think the area is under developped it must be developed i think the govt is making it a no traffic zone and trying to make a park in the surrounding of this historic monument

• India
11 Jan 07
Oh..God! I got atleast one response for this posting....By the way Very good source of information...Thanks for that and also for ur response...

• India
29 Apr 07
i thnk the whole charminar areas has to be widened and the traffic should be allowed to move freely so that it reduces congestion and minimizes pollution.

• France
11 Jan 07
First of all clean the area beside that and as in tajmahal dont allow vehicles near to that monument.Mainly cleaniness and greenary will bring a lot of change.