What makes humans uniquely smart?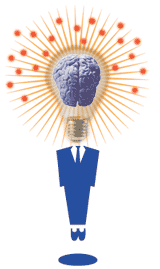 Italy
4 responses

• United States
4 Jan 07
Well let's see - Smart is a hard one to call!!! I mean people think they are smart for different reasons - whether it be that they excelled in school and have achieved much more than others or excelled in sports or another type of activity. But I can also see the other side of it as there are lots of people who never went to college yet have succeeded well in life!!! So smart - well guess it's a give and take kind of thing - while I agree we are all smart in one way or another - but without retaining an open mind - your smartness may just get lost inside - I think you have to continue to be open to learning things - that is what really keeps us all smart!!! Just my thoughts!!!!

• United States
5 Jan 07
Well Thank You so much!!!! I have to agree with you - learning throughout your life can really give you a much greater understanding of how something works. Have a Great One!!!

• Sweden
4 Jan 07
sometimes we think that robots and computers are smarter than us humans. but come to think of it, we are smarter than them since humans created computers and robots. therefore, we are uniquely smarts!

• Scottsdale, Arizona
3 Jan 07
yes we are really smart.we rule this earth.it is the brain make us different and most smart on this planet.

•
3 Jan 07
I don't think we are as smart as animals. Animals live in harmony with the world. We don't. We bomb everyone and anything to 'own' (ha!) a piece of land. Animals don't. Eventually, the world is going to fight back and who's going to suffer? People are. Animals have the unique ability to adapt to their surroundings. We think that we have this ability, but we don't. We have wrapped ourselves up in our own 'perfect' tidy world that when something does happen, we are not going to be cope. Who's the uniquely smart one's now? ;)