Why is he so much "Happy"?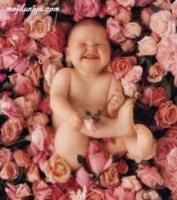 India
September 29, 2006 8:34am CST
I have no clue what would have made this child is so glad! Can you tell!!!
8 responses

• United States
29 Sep 06
because the roses are tickling the baby's bum bum!! LOL

• United States
29 Sep 06
WHat makes you think he's smiling?? His eyes are closed because the photographer is shining a bright light in his eyes...He may have been tickled to get that response..Persoanlly I think he looks as if he is about to start screaming bloody muder...the whole things just reeks abusive to me..

• India
29 Sep 06
god knows wat d expression on d childs face is!!!!!!1

• Greece
29 Sep 06
Help! This child is not glad. this child is having an allergic shock by the roses around!