Giving your dog a bath...

United States
January 3, 2007 7:50pm CST
Okay, who gets more wet, you or your dog when you give them a bath??? We live in the country and we have a very large fenced in yard so that we can let our dog out the back door to go outside and she has lots of room to run. However, she is part beagle, so she likes to dig. She often will dig a hole under the fence and get loose to run around the neighborhood. Unfortunately, it has been raining for days, so when she did this tonight, she was covered in mud! When she came home, she was a muddy mess... into the bathtub I take her and end up wetter than she was!!! But, now she smells clean and fresh... until the next time she digs a hole! lol!
8 responses

• United States
8 Jan 07
lol Usually we both get quite wet. He has never liked the bath, but he used to at least tolerate them, but now he gets very ticked when he needs one, but you know he feels so much better once he is all dry anyway. He HATES being wet, weather it be from the tub or the rain outside. Or even some type of water in the summer.

• United States
8 Jan 07
Another good reason to have cats! Can't remember when the last time was I had to bathe a cat.... Probably never. (LOL)

• United States
8 Jan 07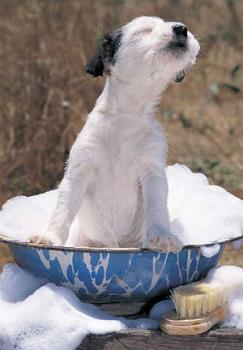 I swear my dog is nuts. No matter how hard I try to make sure he shakes BEHIND the curtain while still in the tub, he somehow has a few gallons to share with mom! lol But at least in the end he smells good for a few minutes, until he runs out back to roll in the mud again!

• United States
4 Jan 07
I love beagles last year one kept coming around my house and she was hungry so of course I fed her. Then I could get rid oh her. I found her owner who lived down the street, they said she is always running away. As far as bathes that is good you gave your dog a bath. I often wash my cats in the kitchen sink. Now thats alot of fun!

• United States
4 Jan 07
we have 3 dogs 2 chows and an american spitz we chain them to a post and try to get all 3 about the same time and if we dont spray one another the dogs get the wettest but then I get more wet when we wash the black one for he want sto lick me all over when his back side is getting washed and then they shake lol

• Australia
4 Jan 07
When we give our bath a wash mainly he is the one that gets wet. But my dog is small and your dog would be bigger than mine, and is a house dog so does not go out a dig holes or go under our fence or get muddy, as then he would not be alowed to come and stay in the house.

• Hyderabad, India
4 Jan 07

• United States
4 Jan 07
Haaaaaaaaaaa! I know I'm the one that gets more wet, actually soaked when I give my dog a bath. LOL She literally freaks out when she gets wet, shakes all over. When that chore is finished I need to clean the entire bathroom and then take a shower myself. Giving the dog a bath is NOT one of my favorite things to do. Don't you just love it?