High School Musical best!!!

Malaysia
January 4, 2007 12:50am CST
Have you guys watched High School Musical. Those who haven't, you should. I just maanged to watch this movie on ASTRO last week during my family vacation to Cameron Highland. Even this is not freshly new movie, i think produced early this year but the movie rocks man!!! Love it so much. It shows the college life among youngsters and all the musics inside are very cool. I love the Breaking Free. Let me share with you guys. -Breaking Free- We're soaring, flying, There's not a star in heaven that we can't reach If we're trying So we're breaking free I know the world can see us In a way that's different than who we are Creating space between us 'Till we're separate hearts But your faith it gives me strenght Strength to believe -Nice song right. U guys should listen to it and watch the movies. and those who have watched the wovie, what do you think?
5 responses

•
5 Jan 07
i think the high school musical is pretty good too. my 5 year old loves it. she got the soundtrack cd before christmas and the dvd in her christmas stocking. i think her favourite song is one that didn't make it into the movie, its called i can't take my eyes of of you and is sung by gabriella, troy, sharpay and ryan. its on the dvd in the bonus section but is not in the film anywhere. think it is on her soundtrack cd too. i like the breaking free song too. my little girl is currently doing the high school musical in her after school dance lessons which she loves. bop to the top is the fave song there.

• Malaysia
6 Jan 07
im collecting the stuffs now.may be we can share later

•
4 Jan 07
I know the song only.I watched in youtube.

• Philippines
4 Jan 07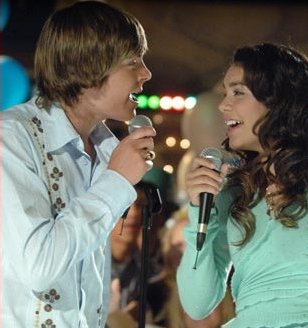 i agree! it's a great movie! in fact, i watched it around three times now. i just cant help but love the songs, really awesome and totally cool! can't wait for the high school musical 2

• Malaysia
5 Jan 07
really...high school musical 2..can't wait to watch

• Philippines
20 Aug 07
HAHAHA you really put the lyrics huh? hehe ANyway, i've seen it so many times and it's really entertaining, and now that HIGH SCHOOL MUSICAL come up with their part 2, i can't really wait to see that now. I am so excited, and actually i've seen the Trailers of it, as i am so excited to know what they could bring us. And yeah, i can say that its a good movie again and really exciting to watch! Have a nice day ahead from Kiko.

• Philippines
23 Apr 07
i have seen it a couple of times and i don't get bored watching it. i love it so much. i won't get tired watching it. I'm excited to see the second movie.