Do You already Get Bored with myLot?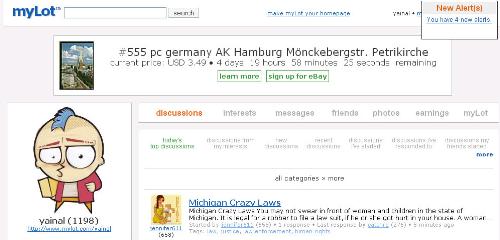 Germany
January 4, 2007 12:01pm CST
After i have solved my problem with internet, I just a little bit reading the active discussion on myLot and I find out that some of mya friend had not active for a while and some of them told me that they got a little bit bored with myLot. Do you already get bored with myLot?
7 responses

• India
4 Jan 07
not always but sometimes after seeking same topics i get bored...then i open up new tab and start surfing new site or chat on orkut..but after refreshing i again get back to work .. i love this site so much that i type letter 'm' whenever i open up my browser:-)

• India
4 Jan 07
not yet. as im a new user to mylot i havnt got bored yet.


• United States
4 Jan 07
i dont be bored with mylot i just get bored seeing the same headlines like the sudamm discussion an american bashing an so on.i just go to my intrest discussion

• United States
4 Jan 07
I don't think that it is being bored as it is about some of the topics they have to can be boring. that is why you have to either look for interesting topics are start you own. it does get a bet frustrating when you start a topic and people don't respond. but hey you have to keep keeping on.

• India
4 Jan 07
not always but sometimes after seeking same topics i get bored...then i open up new tab and start surfing new site or chat on orkut..but after refreshing i again get back to work .. i love this site so much that i type letter 'm' wheverever i open up my browsrer :-)