What does this My best response mean?

7 responses

• United States
5 Jan 07
I'm sorry, I'll go back through my threads and see what I can do. I for one, enjoy the hell out of your responses.

• United States
5 Jan 07
You have a best response now:) Sorry to have neglected you.

• United States
5 Jan 07
I will have to go and see if you've posted on my discussion's. I am sure you post good response's. Do you rate all the response's that are being posted on your discussion's?

• United States
5 Jan 07
I doubt your discussions are crap. I think you have to work the system among your freinds and let it be know you would like to be considered for best response. I am horrible at giving those out, so I am now making a 30 minute slot in my time each night to try to solve my unresolved discussions with more than 10 post. Who knows you may be one of them!

• United States
5 Jan 07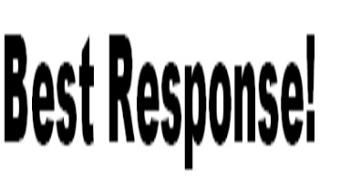 my friend you need to make a response in 3 or 4 sentences and well thought out. Answering and then asking something on the topic helps. If you are personable when answering the discussion you may get the best response.



• United States
8 Jan 07
i wouldn't say that, i would just say you don't have that many responsesyet, and some people, like me, don't always pick a best response because it is so hard to decide, though I do rate all my response, or try to at least, sometimes i am slacker and don't get around to it for a while.