Do you cut your own hair?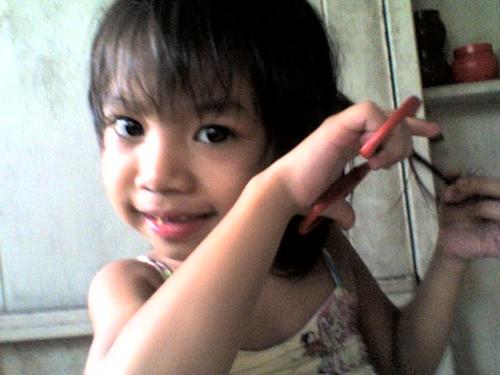 Philippines
January 5, 2007 10:30am CST
this is interesting! I have my 4yr old niece and she cuts her own hair1 she's really cute. I dont know where she leared that but I was so amazed because she cut her hair good!:) I even saw her cutting her hair and shot a video of it. when she grow up I will show her the video.
3 responses

• Philippines
8 Jan 07
nop i dont cut my own hair, cause i cant hehe

• Philippines
9 Jan 07
want me to cut your hair! common man! haha lets shave your hair! haha tomorrow u'll wake up bald! haha :P promise! haha

• Philippines
9 Jan 07
tonight, i'll crawl on your bed and....... cut your hair! hahahahaha :P



• Philippines
10 Jan 07
yeah me too. Im afraid of cutting my own hair too.

• United States
8 Jan 07
that is pretty cool as long as she don't cut it like ...off...lol I have been cutting my own hair since I have been about 15 years old and I am 42. I cut my husbands and my 4 kids hair and some of my friends hair too. I have always wanted to be a hairstylist but just never went to beauty school. I worked in a salon for many years as a receptionist and shampoo tech though. Maybe one day your neice will be a famous high priced stylist...who knows...

• Philippines
8 Jan 07
cool, i also had a friend who cuts her own hair. and it looks nice. you know the origin of cutting her own hair (my niece) is because she dont like her hair cut done by her mom. maybe she tought on playing with scissors and tought about cutting her own hair to make it look good. honestly her mom's cut look aweful. hehe before she cut her hair, she loves helping me comb my hair, and she wants to get my hair pony tailed. hm no wonder she'll be a goof hair stylist someday.. hehe.