have you a strange way to eat chocolate?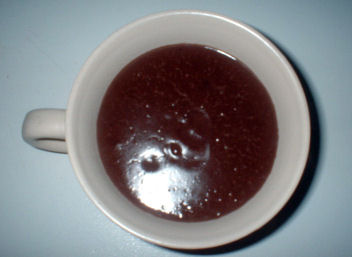 Italy
8 responses


• Seagoville, Texas
6 Jan 07
I smash up chocolate chips and add them mto my coffee pot while my coffee is brewing. They melt in the pot and it is soooo good! Of course, I also put marshmallows on top of my coffee. Makes it creamy!

•
5 Jan 07
I have to suck it for a while before i bite it. I love to suck chocolate :P

•
23 Jan 07
it is a bit hard to explain,it depend's how big is the chocolate, and how greedy you are at time of eating. www.waynesthisandthat.com/eatchocolate

• Italy
23 Jan 07
When I eat the chocolate I'm with it in my mouth for a little of time, after one or two minutes I eat. That's very good in this way.


•
12 Jan 07
depends what it is, if its something in layers, like a mars or something then I tend to eat the chocolatey ends first then eat it in layers from the bottom, other things like if it has wafer in the middle are great to use as straws in hot drinks, have to be careful not to drop the whole thing in your drink though! Strangely with my habits I don't tend to eat chocolate out much, prefer to keep my bad habits in the privacy of my own home!