Did you know that the FDA approves first dog diet drug?

United States
January 5, 2007 6:26pm CST
Let me see, didn't they first make an emphasis on exercise, and then they created diet kibble. It seem that the FDA is approving the first prescription diet drug for dogs. Slentrol by Pfizer cuts your doggie's appetite and reduces fat absorption, too. Would you consider using this? Have any of you heard of this?
9 responses

•
6 Jan 07
I have never heard of this and would not consider it either unless there was an actual medical reason not just a spoilt fat lazy owner mistreating their pet. Is it fair to give pet owners the chance not to exercise their dogs? I can hear it now, "oh I can't be bothered today I'll just give her this tablet instead, keeps her fit and healthy bless her" Overfed under exercised pets are actually being abused and it shortens their life span. If this is brought onto the market it needs to be strictly controlled by sensible vets who are certain the owners are doing their part in controlling their dogs weight.

• United States
6 Jan 07
From what I read it is liquid and only administered by a veterinarian. So is it trips daily to the vet or what? Still 1 to 2 dollars a day for this and an office visit could really add up to too much.

• United States
6 Jan 07
I can say that I have never heard of this. Nor would I use this as a first option for either of my dogs. My beagle can over eat if I let her. But that would mean it would be my fault. And I do not want to be blamed for making my dog overweight! I love her too much to put that burden of weight on her back. Therefore, I do not have a dog feeder that allows a dog to eat as much anf whenever they want to. I am sure there are dogs out there that eat when they are bored...just like humans. It is said, that is a dog is bored they like to chew. Well, if the dog has nothing to chew on and knows that she will be killed if she destroys another pair of shoes (not really killed)...that dog may turn to eating...hence leading to being over weight. So, I would think that we would be more apt to diet and exercise for our dogs before we start feeding them a bunch of chemicals. But if as the last resort...I could possibly understand why a owner might use this route if everything else did not work.

• United States
6 Jan 07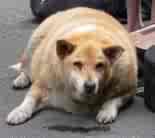 Still with the side effects I would be ever so reluctant to have the vet administer this, on a daily basis, for a 1 to 2 dollar fee and house call and/or vet bill. Just amazing what people choose!

• United States
6 Jan 07
I have not heard of this at all. But, I doubt that I would go for it. I would just exercise and feed a low diet to the dog. And, not too many treats. I think that would be healthier.

• United States
6 Jan 07
I have never heard of it. I don't think I would want to try it either unless my dogs were very overweight to where it affected their health. I'm lucky, my dogs don't have a weight problem.

• United States
6 Jan 07

They said it would cost us about $1 to $2 a day, Isn't that a bit much to spend? It is a liquid and it will be given only by veterinarians and is expected to be available in the spring according to Pfizer. My next wonder is why only by a veterenarian. Dangerous?

• United States
9 Jan 07
I saw that on the news. Diet pills don't usually work too well for people, no reason to believe they'll work on dogs either? Seems like it'd be alot easier to make a dog lose weight - just cut back their food or feed diet dog food and more exercise.


• United States
7 Jan 07
I read about this in today's newspaper. I don't think it's a good idea at all -- less food and more exercise is really the safest way to help get an overweight dog back down to a healthy weight.