The Flying Luxury Hotel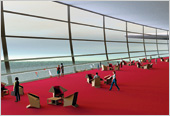 United States
January 6, 2007 6:57pm CST
This is not a Blimp. It's a sort of flying Queen Mary 2 that could change the way you think about air travel. It's the Aerocraft, and when it's completed, it will ferry pampered passengers across continents and oceans as they stroll leisurely about the one-acre cabin or relax in their well-appointed state rooms. This two-football-fields-long concept airship is the brain child of Igor Pasternak, whose privately-funded California firm, Worldwide Aero Corporation, is in the early stages of developing a prototype and expects to have one completed by 2010. Will you reserve your space?
7 responses

• India
7 Jan 07
Wow!If i had the money then why not?Hopefully in a few years of it being launched it would become more affordable and we can all enjoy the luxury of such things.

• United States
7 Jan 07
looks great, I hope we all will do it....


• United States
7 Jan 07
so if the price is the same?


• United States
10 Jan 07
If it isn't too expensive maybe I can go to stay down there.

• United States
18 Jan 07

• United States
18 Jan 07
ok, just wait few years...

• United States
3 Jul 07
Not all that long ago people would have laughed at this concept. But now it is widely felt there is very little that is imposible. Because of it's size I would think very few airports would be able to handle it and then only after expanding. So the question would be in the eairly years would there truly be a cost benefit. This would be very simular to what a cruise is now. Only we are talking hours instead of days and most likely to only one destination. It will be very interesting to see how it unfolds.

• United States
3 Jul 07
This sounds great! How do I reserve my tickets!?!?

• United States
22 Mar 07
it depend on how much it cost, i bet it would be some where around a thousand dollars or so for tickets wont you think so? i think it would take a lot for it to fly too fuel wise. but i wouldnt mind getting on one if is free :)

• United States
22 Mar 07
Around one thousand I am paying now for one ticket to Europe...