Do men really like to play with toys still?

9 responses

•
7 Jan 07
the guys I know still love all toys! My hubby always has to play with the kids new remote control cars, and when he sees something cool he has to buy it for the kids just so he can play with it! His personal toys are his 4 wheel drives, our Jeep right now has 33" mudders, but they aren't big enough... when he gets done I'll need a ladder to get in it. I do have one for our Chevy Z71, it folds out on my side, lol.

•
9 Jan 07
Well they take up the whole house with their train tracks and trucks and motorcycles that need ramps built. It's crazy! And if the ramp isn't good enough then they have to go out to the garage where the "big boy" toys (tools) are and build something better.


•
24 Feb 07
Of course they do, they have all the toys for themselves and don't share with anyone else, they are totally greedy.

•
22 Feb 07
yes definetly , the only difference is that their toys get bigger and more expensive. my husbands toy is his motorbike. then after that he collects tools . then theres the bbq which is whipped out if the sun comes out. he cooks, burns, chars ,, you name it . being a typical woman i hover around saying nasties like.. emm make sure that chicken is cooked properly or is that not a bit burnt hehe. cant resist.


• United States
7 Jan 07
Action figures are for playing with. I happily still play with mine, and I've got an extensive collection so far. They do spend a lot of time displayed on my shelves, but I take them down and play with them when I get bored. And I am unashamed. :D

• United States
7 Jan 07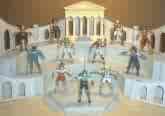 Was once told that the only diffrence between men and boys is the size of their toys. So with boys it is trucks, connects!, legos etc. When men play it is power tools, cars, and the like. Collecting action figures is an interesting prospect. Wide variety and types. You are still fairly young too, so enjoy yourself!!

•
7 Jan 07
depends what you class as toys people say my motrbikes are my toys (we have taken to saying we got a new toy instead of new bike) a female friend of mine says men never grow up they just get bigger toys (we were in bed at the time so maybe it was a compliment! lol)

•
7 Jan 07
I'd class anything as toys, including gadgets.