Tom with long hairs or short??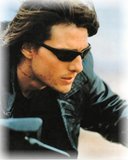 India
January 6, 2007 11:34pm CST
Tom with long hairs or short?? I think he looked dame hot with long hairs just like in Mi2 but not that much with hsi current short hair style like in war of the worlds. So what do you suggests?
1 response

• India
7 Jan 07
Tom is good in what ever hair style he is. He was good in Mission impossible with the short hair and short side locks and even in The Last Samurai he was sexy with his long hair. He is a handsome guy. Anything would suit him. And of all that he is a very good actor.