Afraid of the Dentist?

Philippines
January 7, 2007 7:24am CST
Are you or were you ever afraid of the dentist? Are dentists expensive in your country? When I was young I feared going to the dentist. Maybe I was traumatized one time that I had a filling done and his drill touched a nerve. It was horrible! Just the sound of the drill certainly makes me feel dizzy!
9 responses


• Philippines
7 Jan 07
Same here ... Thanks for commenting.


• Canada
7 Jan 07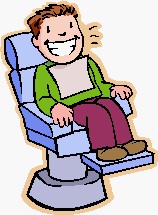 You just say dentist and i feel faint! I hate going to the dentist with a passion. For whatever, even just for a checkup, i can't stand it. My teeth are very sensitive and my gums too, and i've had a lot of work done (lots of fillings, pulling out teeth, and most recently a root canal)and everytime i get nauseous and so nervous. I just walk in the dentist's office and i wanna turn around and leave! And yes, it is very expensive here: a filling is from 80 to 150$, to pull out a tooth could go up to 250$ and a root canal could go up to 1000$.

• India
7 Jan 07
I have not been to any dentist in mylife.

• United States
7 Jan 07
I DO NOT like going to a dentist! Never have, never will. Unfortunately, that's why my teeth are not in very good shape...I would get shots twice a day before I go to a dentist...and I only go in emergency cases..besides, they make more than a doctor does! For example, my son has to have his wisdom teeth out...almost $1800.00 just for 4 teeth out!

• Australia
11 Jan 07
I hate dentists!!! I thought I had got over my fearo fthem until recently. I have had a couple of terrible experiences in the past month and they charge astronomical amounts to inflict pain. I'm with you on the anti dentist band wagon.

• India
11 Jan 07
no I have never been afraid of the dentist,I have enjoyed it.

• United States
11 Jan 07
It's not so much that I'm afraid,I just really don't like going to one.Everytime I've went I've always had to have major work done.Long tiring painful expensive work.For that reason I always put off going unless I just really have to.Terrible I know.I just really hate going.

• United States
10 Jan 07
I'm not afraid of the dentist, although I haven't seen one forever. Dentist is expensive, but if you have an insurance it isn't that bad.