Spicy indian food in the USA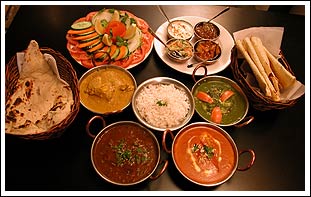 United States
January 8, 2007 8:41am CST
I love spicy indian food. However, has anyone else in the united states of america found that they do not make their dishes very spicy at indian restaurants to appease americans? Luckily, I live in a big enough city where I have some choice. But I just hate when I go to a restaurant and they don't use enough spices. Does anyone else agree?
2 responses

• United States
30 Jan 07
Many Indian restaurants in the US will give a diner the choice of having more spice added to the dish than they might regularly serve - ask the waiter/owner about that. Frankly, I figure that if an american goes to an indian restaurant he/she should expect soice but ur right....sadly many indian dishes are made more mild for the timid american tongue! The first time I ordered chilli bajji the waiter looked a little worried and said - its very spicy! I tried it and loved it but I know most americans could not stand to eat it hehehe.

• United States
30 Jan 07
Agreed! Thank you for your input! Luckily for me, I live in New York city, so there are a lot of choices and I have found some pretty good ones.

• India
26 Jan 09
if u tell any waiter that u want more spicy food , he can serve u more spicy food. now a days ,in US u can see many indian restuarants and can get more spicy foods also. so before u order food , u ask that restaurent people about the spicy food. they can serve u with spicy food. if we particularly tell only they serve u spicy food ,otherwise they will put less spicy food. so ask first about the spicy food and order it.