Bettie Page and other classic beauties

United States
January 8, 2007 12:44pm CST
When did beauty make such a huge downslide? I am a HUGE Bettie Page fan, I think she is sexy, adorable, sensuous and overall what a well rounded woman should be like...She was a religious gal but also not ashamed of her natural beauty and form in all its glory. Same with the Burlesque dancers of back in the day..women like Sherry Britton, Sandy Rand, Josephine Baker and so on....When did we as woman stop being gorgeous beauties and become pcs of meat?? What the hell happened??
4 responses

•
12 Apr 07
when you look back, we just don't really have anyone like Bettie, or Marilyn.. Mae West, Lauren Bacall, Rita Hayworth, any of the Hepburns... there's not many people with that real ladylike glamour anymore and it's sad. Dita Von Teese is in that vein, I think, and she's wonderful. if you look at her alongside the majority of so called celebrities, she's so stunning. bring back old fashioned ladylike beauty.

• United States
12 Apr 07
MAE WEST!! omg I love that woman LOL yea you are right though the ladies of back in the day were top notch and THAT type of classy glamour really doesnt exist anymore...mind you some celebs of today try to pull off the look at Awards time or whatever but it was more than just "a look" it was a complete package deal that just cant be found today...though Dita does come about as close as you're gonna get doesnt she!

• United States
9 Jan 07
I'm sorry I have never heard of her, but I have heard of Josephine baker, she was a good dancer.

• United States
9 Jan 07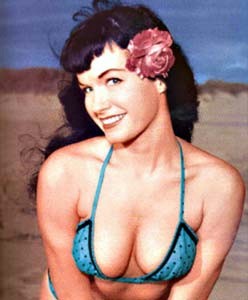 You've never heard of Bettie Page? Really? wow...Well she was the PinUp Queen of the Universe back in the 50's....She is actually more known for the bondage photos she would do for Irving Klaw and his sister...

• United States
12 Apr 07
I love Bettie Page, she was built the way a woman should be. She is still very popular in the tattoo community and if you check out the new tats posted at the inkednation website you are sure to see 2 or 3 of her posted per week.

• United States
24 Mar 07
thank you for best response. Have a nice week-end. I want to see if they will put your discussion back to post. Who know what mylot do!