Has Anyone Had a drastic change in your life after reading Left Behind, the seri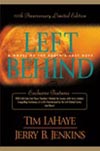 United States
January 9, 2007 8:40pm CST
Tim LaHaye and Jerry Jenkins wrote a series of books called the Left Behind series (there are also movies based on these with Kirk Cameron and his wife, Chelsea Noble). They are based on the Bible's book of Revelation and are fictional but based on a lot of postings in the Word of God. I want to know if anyone, non-Christian or Christian has read this excellent and thought provoking series. And, if you have, did it change your life in any way?
2 responses

• Canada
10 Jan 07
I've read all the books up to Apollyon. I've lost interest in this book series. Probably because no one can possibly display or truly explain the end times. I realize it's fiction today but the futures reality[for me anyway]. No big change for me. My beliefs are pretty much settled. Take care Berlynn1975.

• United States
10 Jan 07
I love this series and while I wouldn't say it was a "drastic" change I was definately reminded that we are living a temporary life. It was a great reminder that one day we WILL be with the Lord. It also encouraged me to not be afraid to share my belief with the people that I love. I read all of them! Really good books. I was already a Christian when I read them. :-)

• United States
10 Jan 07
Me too, thanks. They were definitely a great reminder.