Do You Own A Set Of Rachael Ray Pots & Pans?

United States
3 responses

• Canada
10 Jan 07
No I don't but I would love to. I need new pots and pans big time. I haven't seen them anywhere but I am from Canada so I don't even know if they are sold up here. Where did you get them from?

• United States
10 Jan 07
I have the blue set (they come in Rachael's favorite color of orange too). My daughter gave them to me for Christmas. She bought them online at rachaelray.com. I love them! I needed new pot & pans so badly and she knows I love Rachael so she got them for me. They are great to clean, one swipe and they are clean. The only thing I have to get use to is the glass lids. I have never had pots with glass lids. The silicone handles are awesome. No more burnt fingers. LOL You can also put them into the oven!

• United States
25 Feb 07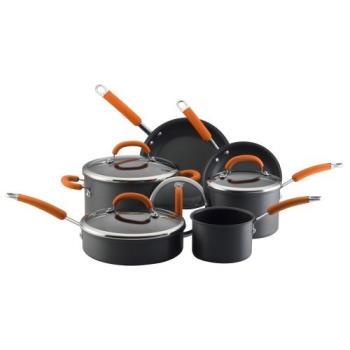 No, I do not own any Rachael Ray Pots. I think it is crazy to spend that kind of money on items just because they have her trademark orange handle on them. I have great Farberware pots and pans that I have been using for years that work just fine.

• United States
26 Jan 07
No I don't own a set of her pots and pans. I think there are alot of other pots and pans out there are work just as good without being so much money. I love Rachel Ray and her cooking but her cookware is just notthat important to me.