Pending Friend Requests


Australia
January 10, 2007 11:23am CST
What do you do if you have one of these? Do you go into their profile and give them a good going over or do you just approve them anyway? Have you ever denied a request or have you ever deleted an existing friend? Interesting to hear your comments on this one.
10 responses

• Italy
14 Mar 07
To me to receive "friend requests" is the most exciting thing on myLot. I'm always happy when I receive one and I always accept it. Maybe it would be better taking a look on his/her profile before, but I prefer giving a chance to everybody. After accepting his/her request, I take always a look to his/her profile, and I always look for a discussion to respond, I like thanking this person responding to a pair of discussions he/she started.

• Australia
14 Mar 07
Yes, it is exciting to receive "friend requests" on mylot. It's good that you give a chance to everybody, and that you respond to their discussions. You sound like a good friend! lol. Thank you so much for your response.

• Philippines
3 Mar 07
I normally just hit the approve button everytime I get a request until I read a posting that tells of a user's experience about accepting a request from someone with no record of posting nor responses, no list of friends, absolutely nothing. After he accepted the request, he noticed a considerable decrease in the speed of his computer. He eventually discovered a trojan entered into his system and he connected it to that action. I wonder how true can this be or whether there is an inbuilt protection in mylot, just a little careful.

• Australia
3 Mar 07
Great comment there manong - something for us all to watch out for I guess! Thanks so much for responding and making us aware that this could happen. lol

• Canada
25 Feb 07
So far only two people have requested to be my friend and I approved them. I figured that they must have liked what I had to say in one of my posts or they wouldn't have contacted me. And since I'm new here, I can use all the friends I can get.

• Australia
26 Feb 07
Hi there! Good luck on myLot and hope you have a good time! Keep posting and responding and in time you'll have lots of friend request i'm sure. Thanks for responding to my discussion lol

• Australia
24 Feb 07
Initially I wasn't as discerning as I am now, because in the early days of being here at myLot I accepted all friend requests. Then I found that I had so many, and a lot of them were not responding to my discussions and I wasn't interested in many of theirs, so I started deleting some of them. After that I viewed the profiles of each person who made the request. I would check the discussions they started plus some of the responses they had made and then I would make a decision. Some I have accepted but I have also been denying some of them as it seems we have nothing at all in common. As you know feralwoman, I respond to discussions from all of my friends, but if there is nothing to interest me ever, why keep those people on my list. The other thing I have noticed that some people seem to make friend requests from people with bright stars and/or high ratings. They have never responded to any of my discussions and yet still make these friend requests. If I can see nothing in common, I will take a chance on losing someone who could be good, by denying them as a friend. That might sound strange, but I do not want to wade through endless pages trying to find the friends whose discussions I do like to respond to. LOL I actually think that we should all be discerning when we get friend requests, choosing those we have something in common with by checking their profiles and denying those we don't feel there is any way we can help them. :)

• Australia
26 Feb 07
Hello there Ossie! All I can say is Exactly! Great to hear from you. lol

• United States
23 Feb 07
I look to see if their previous discussions have been obscene or off color. It takes a lot for me to turn down a pending friend request. Even some posters who don't make much sense - I don't want to hurt their feelings. But if they are offensive, then I have no problem turning them down. I've yet to delete a current friend though.

• Malaysia
12 Jan 07
Ijust approve any member who try to joint my group. I never delete their request. I want to see how many people want to be my friend. No need to check their profile because I don't know the information given can be trust or not. Some people like to cheat, some people don't want to share their identity and some people are honours. There is no requirement that must be fill in order to joint other member.

• Canada
12 Jan 07
When I see that i have pending friends I immediately go into their profile and start looking around. I am already tired of request from others that make useless post and responses. I love to talk and I love getting responses but not just crappy ones. Those that carry on worthy conversations get to become my friends. It's like being at a party and all the losers come and sit with your but never say anything worthing while talking about do you want to continue or do you want to move on to more stimulating people? Not that anyone here is a loser, I was just using that as an example. :)

• Australia
12 Jan 07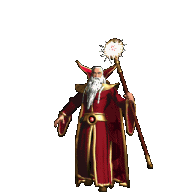 G'day WebMann - I agree. I love to talk and love getting responses. Can't stand the one liners though. Your analogy to being at a party is a good one - I can relate to that. Great response mate. Here's a picture of a Wizard to bring you luck if you need any lol

• United States
12 Jan 07
I always take a quick peek into their profile and look over their interests as well as what discussions they have started - and if I feel so inclined then I add them and start responding to their discussions. I haven't deleted anyone from my friends list and actually have never asked anyone on this site to be my friend - I enjoy being asked first - yes I know it's just crazy ole me!!! But I have once denied someone - only because this person had started a discussion regarding how to make a lot more money on here by posting pictures and I responded to the discussion because he only had started 2 of them and they were basically the same so I responded and told him that you aren't allowed to post pictures into the discussions until you have at least 500 posts - so he responds back to my comment that I was wrong and no where in the rules did it state that. So while I went off to show him the info - his discussions both disappeared so I just denied him. Sorry for rambling on - I think it's going to be a manic day for me today!!! lol

• Australia
12 Jan 07

I hit the magic 500 a few days ago - man was that hard work! Thanks for the response, great as usual, take care mate. lol Here's a picture of The Queen of Dreams for you.

• Nigeria
10 Jan 07
whenever i get a friend request i usually add it to my friends list sometimes i respond to their discussions and also look at their profile.

• Australia
10 Jan 07
Thank you very much for your response chimex4real2k2 :)

• Pakistan
10 Jan 07
i simply go to that username's profile and check that from which country he/she belongs and then i add every one to my friends list, nomatter from whcih country those are.

• Australia
10 Jan 07
Yes, I have friends from all over the world. Thanks for responding Mubashar1988.